Posted: 2018-12-04 21:21:49
It may have seemed odd that President Trump released a dire federal report on climate change last month and then immediately dismissed it, declaring, "I don't believe it." But he had no choice. Like it or not, he was forced to make it public. It's the law — a law signed in 1990 by our 41st president, George H.W. Bush.
"George H.W. Bush really was a visionary on climate," said Monica Medina, who served as principal deputy undersecretary at the National Oceanic and Atmospheric Administration under President Obama. "He understood that climate change was a risk to our health, to our prosperity and to our national security."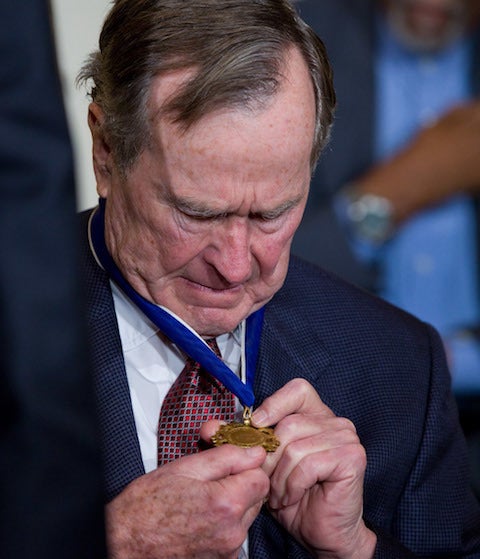 As the nation comes together this week to mourn and honor the late president, who died Friday, there are many things to remember about him. Often overlooked is the fact that Bush was remarkably prescient in his concern about key environmental issues, particularly climate change. "Those who think we're powerless to do anything about the greenhouse effect are forgetting about the White House effect," he said in a 1988 presidential campaign speech.
Early in his presidency, his cabinet officials penned memos on their fears about climate change. "Global climate change is the most far reaching environmental issue of our time," acting assistant secretary of state Richard J. Smith wrote in a 1989 memo. "If the climate change within the range of current predictions actually occurs, the consequences for every nation and every aspect of human activity will be profound." These notes, released in 2015 by the National Security Archive, also demonstrate the Bush Administration's deep worries about the depletion of the ozone layer.
"People are focusing on Bush's humanity and kindness, his decency and the genteelness of the man, but it shouldn't overshadow the fact that he made enduring breakthroughs in the policy
View More