Posted: 2019-02-08 12:45:00
Visiting Bangladesh this week, Angelina Jolie, the Special Envoy for the UN Refugee Agency, said the world must not turn away from the nearly one million Rohingya refugees who have fled from Myanmar to Bangladesh.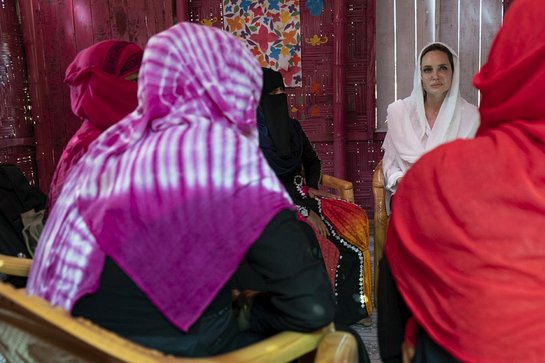 She urged continued support for those who have been displaced, until the Myanmar authorities show the genuine commitment needed to end a decades-long cycle of violence and displacement.
Yesterday in the capital, Dhaka, the Special Envoy held official meetings with Prime Minister Sheikh Hasina and Foreign Minister AK Abdul Momen, in which she expressed UNHCR's gratitude to the people and Government of Bangladesh for their generosity in receiving over 700,000 refugees since August 2017. She reiterated UNHCR's support for collective efforts to enable Rohingya refugees to live dignified lives in Bangladesh and the pursuit of lasting solutions. She also raised concerns that without an urgent expansion and strengthening of educational opportunities, the future of a generation of Rohingya children would be at risk. While in Dhaka, Jolie also visited two museums – the Liberation War Museum and the Bangabandhu Memorial Museum – where she viewed exhibitions about the country's history, including its own experience of large-scale displacement.
Jolie began her three-day visit on Monday in Chakmarkul and Kutupalong refugee camps, where she heard testimonies from Rohingya women, children and men who have endured a lifetime of persecution and discrimination. There she witnessed some of the remarkable humanitarian response efforts to date, including a registration process, led jointly by the Government and UNHCR, that is providing many refugees with a legal identity for the first time. She also visited a transit centre for newly arrived refugees and a hospital giving much-needed care and support to women and girls.
While recognizing such achievements,
View More