Posted: 2019-02-10 02:02:29
SEATTLE (AP) — A winter storm that blanketed Washington state with snow and forced the cancellation of more than 200 flights moved south into Oregon as meteorologists warned Saturday that yet more was on the way.
In Seattle, where heavy snowfall is a rarity, residents cleared out grocery store shelves and left work early Friday afternoon as the storm arrived. On Saturday, many got out ski gear and sleds and took to neighborhood hills or even streets that were too steep for cars to navigate.
In Tacoma, hundreds of people turned out for a snowball fight in a park after someone who lives nearby suggested it on Facebook. They took cover behind picnic tables and used sleds as shields.
"This is a perfect morning to bundle up and play in the snow, but stay off the roads if possible," Gov. Jay Inslee wrote on Twitter.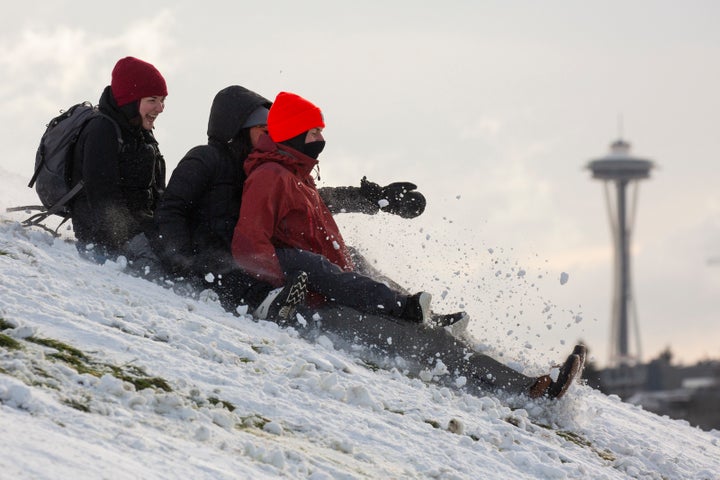 More than a foot of snow (30.5 cm) was recorded in some areas, including on the Olympic Peninsula, in the nation's latest bout of winter weather. In central Washington, blowing snow and drifts 3 to 4 feet (0.9 to 1.2 meters) deep forced the closure of U.S. 2 and Interstate 90. The Grant County Sheriff's Office warned that snow drifts were blocking many roads.
"Snow conditions are worsening minute to minute, so don't expect travel conditions to improve," the sheriff's office wrote.
The National Weather Service said additional snow could fall Saturday, and another storm was expected early next week.
About 180 people spent the night at an emergency shelter set up at Seattle Center, with officials going out again on Saturday to get other homeless residents to safety. Inslee declared a state of emergency over the storm, and sliding cars caused crashes on highways, though traffic was light. The state transportation department said crews had to clear several trees that had fallen across roads in the Tacoma area.
View More